As of January 2016, we started to work towards a final concept: A
3-sheeter for 500.000 euro. (Bearing in mind that we needed to foresee also a
vast amount of money for 'loose' equipment like e.g. an Ice Master, hacks, pre-printed
curling sheets,…)
Important for us was also that we had a cozy bar, with a nice view over
the ice and accessible for wheelchairs, but without any elevators (and/or
steps).
We sat together with a lot of potential suppliers and finally came to
some interesting conclusions.
1. The building plans: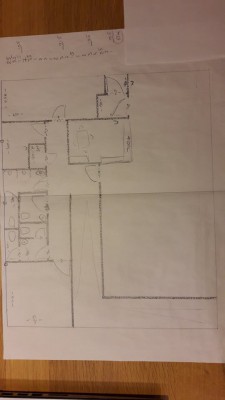 (Picture above is the final cafetaria plan)
2. The surface:
The proposed building site in Zemst was next to a small fosse/ditch.
After some measurements we came to the conclusion that the ground was a little
instable for a heavy building. Also, we needed to look for a solution that we
wouldn't have an issue with groundwater that would freeze under the building.
Or water seeping through the walls.
We could just go for a full concrete floor. But due to the unstable
ground, that would have costed a lot, as we also needed to invest in foundation
to support the weight.
So, to do this in a cost effective way, we decided to build just a full concrete
ring as a foundation for the building. And fill the ring with several layers,
as described in the picture underneath: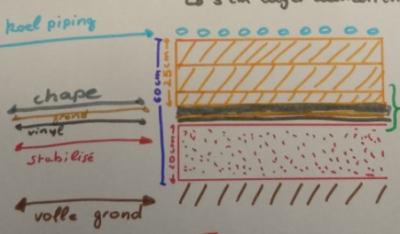 From top to bottom:
– Piping / Cooling
– 25 cm Styrodur 3000CS Insulation (10cm + 10cm + 5cm)
– 5 cm screed (just to make it level)
– EPDM cloth (to avoid water seeping in)
– 20 cm stabilizer (broken brick concrete)
– The ground
We chose not to invest in soil heating under the ice. Instead, we
invested more in insulation. 25cm to be exact. We chose to have it in 2 layers
of 10cm and 1 of 5 cm. The idea behind this, is that – if we would need soil
heating to be installed, we could just remove 5 cm and put the soil heating in
place. (After being open for several months now, we can say that soil heating
is not needed).
As we wanted the bar to be 70 cm higher than the ice surface, we put an
additional ring of insulated concrete panels that we could use to raise the
surface on the foundation ring.
3. The outside
construction:
We chose for a steel construction, that was the most cost effective. Our
construction details:
– Company:
Qloods, www.qloods.nl
– Steal structure
61.25 m – 16.3 m
– Roof and
wall panels, 150 mm insulation
– Interior
glass wall between the ice part and bar.
– A ring of
insulated concrete panels
– Estimated price: 165.000 – 200.000 euro