The
history
Building
a dedicated curling facility was a dream for a long time already. Several
potential projects passed… But it was always a 'chicken or the egg'-story. A
curling rink would gain the interest for the sport, but you need interest in
the sport to raise enough 'willingness to invest' in curling…
So,
we had our first challenge…
Challenge
1: Grow the interest
In
2013 the members of 'Curling Club Zemst' (at that time known as 'Curling Club
Mechelen') took the challenge to grow the sport in Belgium. Being the only club
in Belgium, with only 20 playing members we took upon us, as a first challenge,
to expand to other locations. The previous board members of the club would
focus on that and a new board took over 'Curling Club Zemst'.
In the following two years 2 additional clubs started ('Campina Turnhout' and 'Curling
Club Gent') and together we tripled the amount of active players. We also started a
competition together with the Dutch club 'Curling Club Tilburg'. But, all these
clubs each had a maximum of 4 hours a week on hockey ice. This has 2 major
disadvantages:
Due to the growing interest, the supply and
demand just cannot be met. Mainly the hours were usually not possible. The main
reason why more than 90 % of the people that try curling didn't continue. It
was just not feasible in their schedule.
Secondly, the quality of the ice (the lack of
quality for curling) had a huge influence. Many tried it for a while but stopped
because of the poor ice quality.
Challenge
2: Cultivate the interest by creating a common dream
A first way to
achieve our dream was the Portable Curling Facility (PCF) Program of the World
Curling Federation (https://www.worldcurling.org).
We entered following documents and ended up second to Turku, Finland.


It's always a pity to end up second. But, after some great feedback by Richard Harding, Leif Öhman and Darrell Ell (all WCF), we decided to go for our own project. A project where we would not be limited by the specifications that were imposed by anyone.
In the end, we already worked out a business plan, we had a location that we could have free of charge thanks to the community of Zemst (https://www.zemst.be),…
So, we decided: "We'll just do it ourselves!"
Challenge 3: Back to the drawing board
We sat around
the table with an architect (https://www.dearchitecten.be)
to define what would be feasible for the initial PCF budget, which was about
400.000 euro. It was a hard pickle… Nobody really knew anything about the
equipment that was needed to build a curling rink. So we talked – very high-level
with all sorts of potential suppliers – and looked for a way to make it work.
(Later we will go deeper into the details of the equipment.)
A design for a 2-sheeter was
made and we faced the next challenge…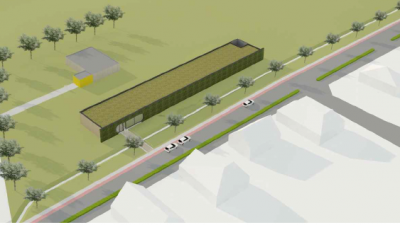 Challenge 4: Getting the
funding
To achieve our
goal, we assumed we needed 400.000 euro. And we only had 20.000 on our bank
account. So, quite a gap to fill. Luckily, the 'World Curling Federation' provides
several loan possibilities. And that could cover already a big part of the
money needed. But we still lacked 150.000 euro.
So we started a
reward based crowdfunding. People could support us by coming to our club to
have a try at curling, becoming a member of the club or simply supporting us
financially. Partners like Palm Brewers (https://www.palm.be),
WeLoveWalls and Cas Moor provided also some cool rewards like bottles of beer
and personalized barstools. We aimed for €30.000 as a goal, (which then was one of the biggest reward based crowdfundings ever in Belgium!) with
the idea: 'If we can manage this, we can manage everything…
And we did: We
raised more than 32.000 euro in total. A great success! More info on the
crowdfunding can be found on: https://crowd.hellobank.be/en/projects/curlingbaan
Thanks to the crowdfunding success, we got a lot of media attention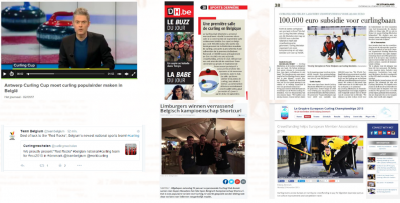 And thanks to that media attention we also managed to gather a subsidy of 100.000 euro via the local government (https://www.vlaamsbrabant.be) and the bank behind the crowdfunding website https://www.bnpparibasfortis.be was willing to give us an additional loan if needed.
And so we ended up with a bigger budget than we had ever hoped for… and opening the potential to go for a bigger dream: 'building a 3-sheeter instead of a 2-sheeter'.
Read more on the next challenges in our next blog post!